A Future For China-India-Nepal? Maybe Not.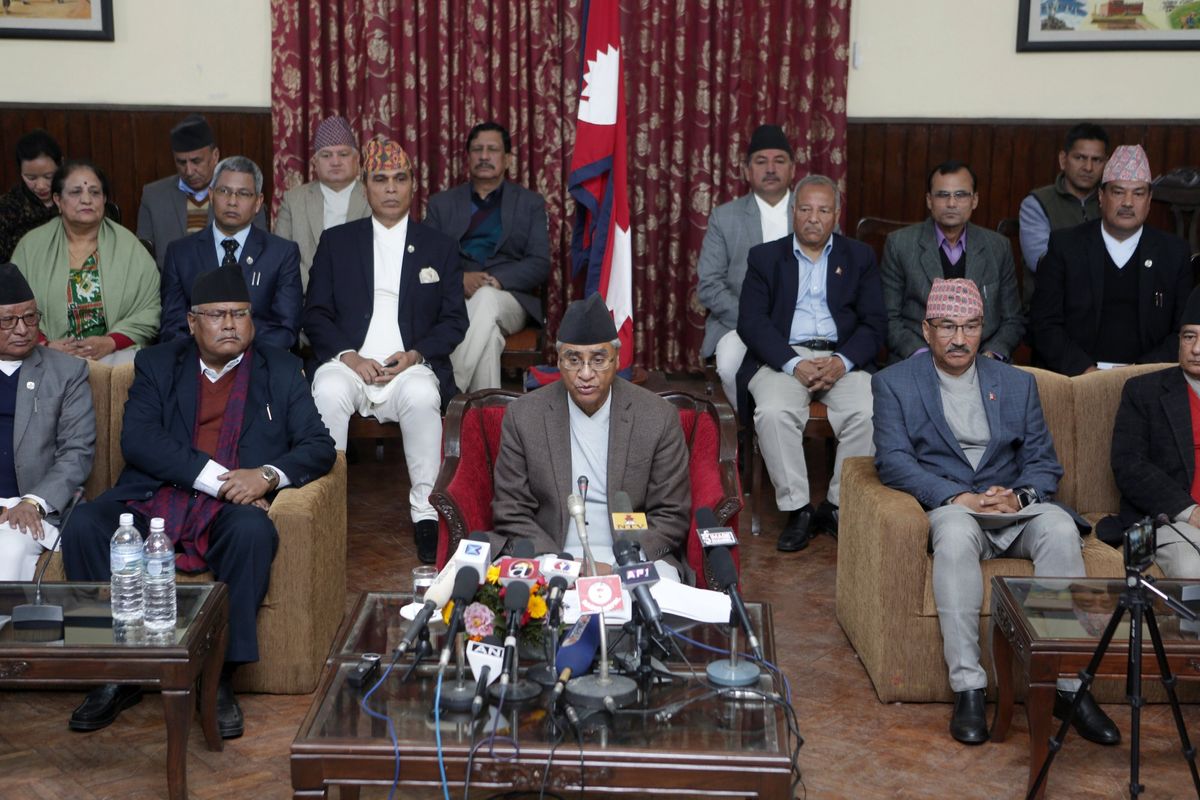 by MOLLY MCCAMMON, '21
In the last few years, Nepal has generated billions of dollars in investments from its northern neighbor China. Trade between the two countries has grown from 108 million US dollars to 990 million dollars in the past decade alone, making China Nepal's second-largest trading partner. [1] Furthermore, China has invested heavily in large infrastructure projects such as the Kathmandu Ring Road and the Pokhara International Airport to strengthen the level of development in Nepal. [2] In May 2017, Nepal announced its interest in becoming part of China's Belt and Road Initiative–a program which seeks to connect Asian trade routes with Europe and Africa, and the countries in between. But while this recent Chinese investment has many economic advantages from a Nepalese standpoint, it has piqued the irritation of Nepal's southern neighbor and the region's other superpower–India. While Nepal finds itself benefitting from the competing affections of these two countries, India fears losing its vassal state to Chinese influence. So what does this mean for the future of the relationship between the three countries and what should India do about it?
Before one can answer this question, one must first understand Nepal's motivations for pursuing a relationship with China. As one of the world's least developed countries, Nepal relies heavily on foreign aid, which makes up 50% of its entire health budget and funds over 60% of  development programs in the country. [3][4] As if the economic situation in Nepal was not dire enough, in 2015 the country was hit by a catastrophic 7.8 magnitude earthquake which killed nearly 9,000 people and caused about $10 billion in damage (half the country's GDP). [5] In light of Nepal's dependence on foreign aid, its eagerness to cooperate with China makes all the more sense: China is the largest contributor of foreign aid to Nepal–pledging $79.26 million in 2017 as compared to India's $36.63 million–and thus is viewed as an essential investor in securing Nepal's future economic stability. [6][7]
Building up its relationship with Nepal is just one step on China's path towards greater regional influence. It has pursued a similar strategy in countries such as Sri Lanka, Pakistan, and Maldives. But China is not the only one interested in Nepal.
India has historically been very involved in Nepal, serving as the landlocked country's largest trading partner and allowing it access to Indian ports. [8] Culturally, religiously, and linguistically the countries share many similarities–more so than Nepal and China. But there have been recent tensions between Nepal and India: in 2015 India blocked Nepal's access to its ports for five months over purported human rights abuses involving the Madhesi people, and  India has not been the most reliable in following through on its development commitments in Nepal. [9] Thus Nepal has come to realize that an overreliance on India may not be in its best interests and has sought to diversify by seeking Chinese investment.
Nepal's new tactic of balancing its relationship between the two regional powers is known as an "equidistance" policy, referencing Nepal's intent to avoid favoring either its northern or southern neighbor. But this policy of equidistance has been challenged by the fraught relationship between China and India, which became particularly inflamed last summer during the Doklam territory stand-off between the two countries. As a result of the tension between them, India has constantly deflected on questions about the potential of creating a China-India-Nepal economic corridor.
In the given situation, here is what India needs to consider: Nepal's increased access to China could mean Nepal having less of a relationship with India and a larger regional presence for China. Both China and Nepal are advantaged by this scenario while India loses an important relationship with Nepal and potentially the ability to generate a regional economic partnership with China. Thus, instead of displaying apathy in regards to the attempted triumvirate, India should respond thoughtfully to China's outreach. While India cannot compete with China's economic prowess, if India wants to assert its regional power via its strategic relationship with Nepal, it can follow through on its promised development projects. Such a move would signal to Nepal India's commitment to its future stability and reaffirm the strategic relationship between the two countries.
Another factor which has turned Nepal's eye towards China, is that China has adopted a non-interference policy in regards to Nepal's domestic politics. This is in contrast with India, who was seen as interfering with Nepalese internal affairs in 2015 when it expressed its dislike of Nepal's new constitution by blocking access to Indian ports. [10] India should consider at least a partial or full non-interference policy in relation to its dealings with Nepal.
While it is important for India to become involved in the China-India-Nepal economic corridor so that it can monitor China's relationship with Nepal, this does not mean that India needs to pander all-out to Nepal whenever it plays the "China card": India retains leverage over Nepal from a strategic sense, as its ports are closer and easier for Nepal to access than those in China.
One final recommendation for India, is to recognize that Nepal acts according to its sovereign interests, rather than intentionally aims to attack the India-Nepal relationship. India cannot allow its ego to erode the basis of the strategic and economic relationship with its northern neighbor.
There is hope for cooperation between Nepal and India yet: Nepalese Prime Minister Oli's first foreign visit upon his election was to neighboring India, signalling his intent to emphasize India-Nepal relations during his time in office. [11] Moreover, Nepal consulted India before becoming involved in China's Belt and Road Initiative. India can choose to focus on the positive elements of its relationship with Nepal, or it can become unnecessarily anxious, escalating small decisions on Nepal's part into full-flung disputes. This will not serve either Nepal or India's interests, and will agitate an already tumultuous Indian relationship with China. The best path for India is to recognize the burgeoning Nepal-China relationship, and accept offers to cooperate with its two neighbors in a triumvirate-type economic corridor while still retaining its special relationship with Nepal.
Works Cited
[1] Tian, Le. "Nepal's Oli visits Beijing amid China-India-Nepal Triangle." Ecns.cn. Last modified June 20, 2018. http://www.ecns.cn/news/politics/2018-06-20/detail-ifyvmiee7350328.shtml
[2] "Valley's monorail project to cost Rs 116 billion." The Himalayan Times. Last modified September 14, 2018. https://thehimalayantimes.com/business/valleys-monorail-project-to-cost-rs-116-billion/
[3] Karkee, Rajendra, and Jude Comfort. "NGOs, Foreign Aid, and Development in Nepal." Frontiers in Public Health 4 (2016): 177-184. https://www.ncbi.nlm.nih.gov/pmc/articles/PMC4995364/
[4] Maixner, Kira. "Foreign Aid in Nepal." Borgen Project. Last modified June 8, 2013. https://borgenproject.org/foreign-aid-in-nepal/
[5] "On This Day: Earthquake in Nepal." World Policy. Last modified April 25, 2018. https://worldpolicy.org/2018/04/25/on-this-day-earthquake-in-nepal/
[6] Nambiar, Harish. "New worry for Modi as China takes deep root in Nepal, a place where anti-India fire is so easy to fan." The Economic Times. Last modified July 12, 2018. https://economictimes.indiatimes.com/news/defence/doklam-standoff-threat-at-the-other-trijunction/articleshow/60136668.cms
[7] Ghimire, Yubaraj. "As Oli comes calling, what does Nepal want from China?" South China Morning post. Last modified June 17, 2018. https://www.scmp.com/week-asia/geopolitics/article/2150859/oli-comes-calling-what-does-nepal-want-china
[8] Workman, Daniel. "Nepal's Top Trading Partners." World's Top Experts. Last modified August 22, 2018. http://www.worldstopexports.com/nepals-top-import-partners/
[9] Basu, Narayani. "Nepal-China-India: Three's a Crowd?" The Diplomat. Last modified August 22, 2017. https://thediplomat.com/2017/08/nepal-china-india-threes-a-crowd/
[10] "India must work with Nepal's new government to offset China's influence." Hindustan Times. Last modified December 12, 2017. https://www.hindustantimes.com/editorials/india-must-work-with-nepal-s-new-government-to-offset-china-s-influence/story-H9SEnHbCMbR6o8lk6KTJaN.html
[11] Muni, SD. "China's Shadow Loomed Over Nepal PM Oli's 'Succesful' Visit." The Quint. Last modified April 10, 2018.