Climate Change and Conflict In the Developing World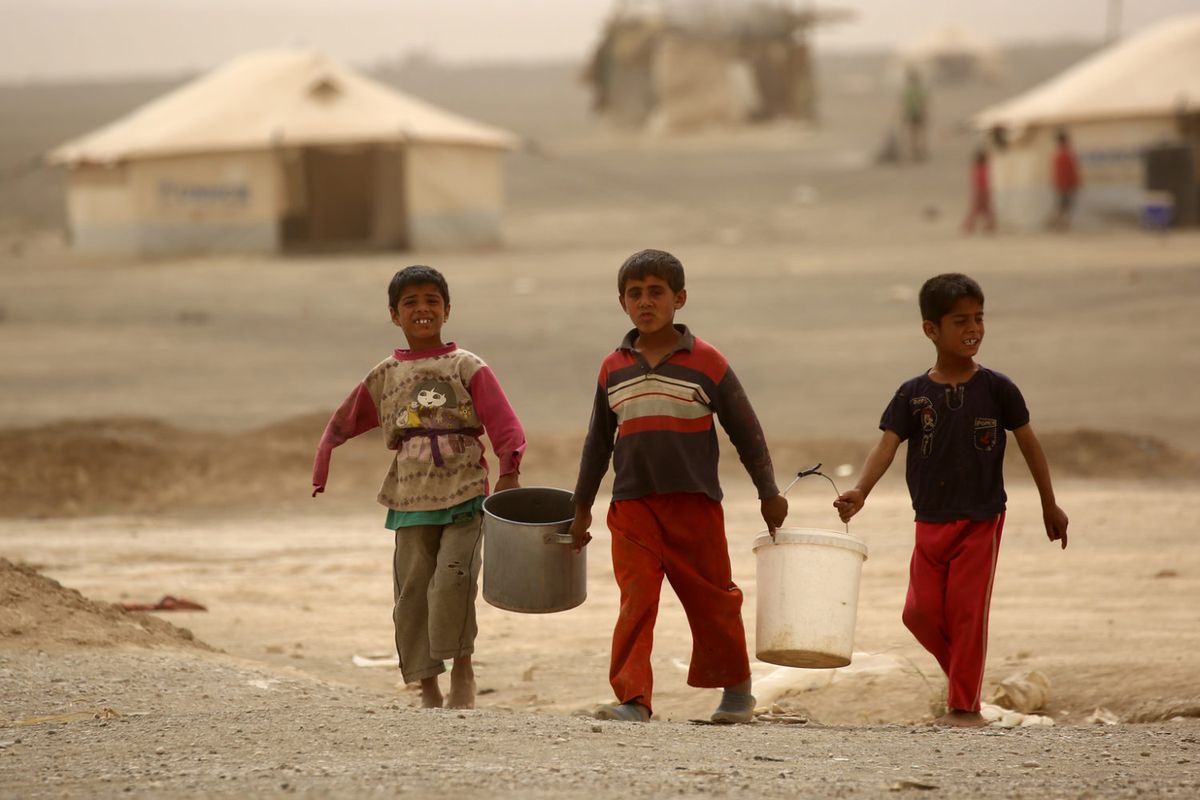 by KENT KELLER
During the Democratic Presidential Primaries, Bernie Sanders made the argument that climate change has been one of the drivers of the Syrian conflict and that climate change has, more broadly, contributed to geopolitical instability and terrorism throughout the world. [1] The issue of climate and conflict has been an incredibly fraught topic, with liberals, environmentalists, and scientists arguing that climate change will increase the likelihood of conflict in many regions of the world, especially in Sub-Saharan Africa and the Middle East. As the climate changes and these areas become more arid, they argue millions of people will become displaced, creating friction and intergroup rivalry. Many conservatives and libertarians argue that it will have a minimal impact and that concerns over climate induced conflict are overblown. Several conflicts over the past fifteen years have been attributed in part due to climate change, most notably Syria and the ongoing crisis in Darfur. Both conflicts began in the midst of massive droughts that drove millions of people to emigrate to other areas of the country; small farmers to the city in Syria and cattle herder farther south in Sudan. Both events created economic and social instability (high levels of unemployment and discontent in Syrian cities and competition between the northern cattle herders and southern farmers in Sudan), which helped precipitate the conflicts. Climate change likely had a significant impact, but other factors that underpinned the social and political context of the conflict played a large role as well. Climate change is only one of the varied array of factors that sparked these two conflicts, but even so, it is important to examine how it exacerbates and interacts with the unstable conditions that create conflict.
The conflict in Darfur had been simmering for a long time before violence broke out in 2003. Sudan is a patchwork of different tribes and ethnicities, but generally the northern and central parts of the country are dominated by  Arabic-speaking pastoralists, while the south and east are home to non-Arabic-speaking farmers. Tensions between these two groups had been fraught ever since Sudan gained its independence from Britain in 1956. Conflict erupted during the famine of 1984 and lead to a six year long conflict that culminated in Omar Al-Bashir, the current President of Sudan, seizing power [2]. In 2003, rebel groups in Darfur, a region of around six million people in western Sudan, launched a full scale insurgency against the government. The central government vowed to crush the insurgencies and sent the military. In addition, Arabic-speaking militias, including the infamous Janjaweed, fought alongside the military and launched a campaign of genocide and ethnic cleansing against the non-Arabic speaking people of southern Darfur. Peace agreements were signed between the government and different rebel groups between 2005 and 2007, but the conflict continued until it died down in 2009. [3]More than 300,000 people were killed in the conflict and 2.3 million people were displaced. [4]
A number of different factors played into the conflict including environmental changes. Sudan experienced a severe drought and unprecedented level of environmental degradation in the years leading up to the conflict. From 1993 to 2003, rainfall in the region fell 30% from previous decades and temperatures increased substantially. [5] The population also increased rapidly, at a rate of 2.6% a year, putting even more strain on farmland and rangeland. By 2000, because of lower rainfall, population increase, and overgrazing had caused the amount of eligible rangeland in many parts of northern and central Sudan to decline dramatically. [6] These changes forced mostly Arabic speaking herders farther south putting them in conflict with non-Arabic-speaking farmers.  Since most high level officials shared the same ethnic and cultural background as the herders, they effectively sided with them in disputes over water and land. On top of everything else, the tribal councils which has helped settle such disputes in the past were abolished by the central government and replaced with top-down administrators. [7] Overall, climate change exacerbated the problems and set the stage for the conflict, but it was the government's response to the environmental change that was key. Rather than try to encourage responsible stewardship and adaption in the fact of deteriorating environmental conditions they chose to pursue policies that inflamed the existing tensions between the two groups. Climate change was "the straw that broke the camel's back", igniting ethnic and demographic tensions that had been simmering for decades, if not centuries.
The Syrian conflict also began in a backdrop of an unusually severe drought that led to turmoil. From 2006-2010 Syria experienced a massive drought that strained the already overexploited groundwater reserves and agricultural land in the countryside. Although, Syria had experienced many droughts in the past, the drought of 2006-2010 was the worst Syria has endured in over 40 years. Rainfall declined 45% in many areas and agricultural production was devastated. [8] Syria's wheat harvest fell from 4.7 million tons to 2.1 million tons. With fewer crops to sell, living conditions deteriorated, as extreme poverty and malnutrition surged in many rural areas surged. At the same time, the Assad regime began to liberalize the economy, ending subsidies for fuel, crops, and fertilizer and opening up the agricultural sector to competition from abroad, further battering rural farmers already struggling to make ends meet. Over 300,000 people emigrated from the rural north-east to large cities, like Damascus, Homs, and Aleppo, living in makeshift shantytowns. [9] Throughout the crisis, the government basically ignored the problem and cracked down on outlets that covered the crisis in a way that did not fit the official narrative. [10] This situation became a pressure cooker of discontent that exploded during the Arab Spring, when thousands of people took to the streets to protest the Assad regime. [11] Ultimately, it was these migrations that served as one of the catalysts for the conflict. Climate change obviously played a factor, as the record droughts created a situation that was ripe for social unrest and instability. However, the government's policies exacerbated the problem significantly. For one, it chose to embark upon a series of painful economic reforms at the worst possible time. The government also had a corrupt and ineffectual water regime, that encouraged waste and lead to inefficient use. During the drought, much of the area's groundwater reserves had been depleted to irrigate cropland in arid areas. Population increase, the population had been growing at 3.75% a year for the past two decades, also lead to the overexploitation of land and water. [12]
Although climate change played an important role in both of these conflicts by exacerbating the conditions of already drought prone countries, the government's policies and actions were the ultimate deciding factors. In Sudan, rather than promoting more sustainable agricultural policies the government chose to inflame ethnic tensions and continue to pursue their dream of Islamizing the country and ensuring the domination of Arabic-speaking people. In Syria, the government do not adequately respond to the crisis and past policies had lead to widespread mismanagement of the agricultural sector. The lesson is, although conflict will become more prevalent because of climate change, countries that are vulnerable to climate disruptions and lack strong institutional capabilities are especially prone to conflict. Climate change exacerbates the conditions that can create conflicts. However, with strong accountable institutions and the means to adapt to climate change (which developed nations can do through mechanisms like the Green Climate Fund), we may not see elevated levels in conflict in the age of climate disruption.
[1] Joe Romm. "Why Bernie Sanders Was Right To Link Climate Change to National Security" Think Progress, November 16, 2015, accessed December 13, 2016. https://thinkprogress.org/why-bernie-sanders-was-right-to-link-climate-change-to-national-security-e3d116d365c#.o7eyapvm8
[2] Harold Welzer. "Darfur: The First Climate War", Audubon Society, July 12, 2012, accessed December 13, 2016. http://www.audubon.org/news/darfur-first-climate-war
[3] "Sudan Profile: Timeline". BBC World News, December 10, 2015, accessed December 13, 2016. http://www.bbc.com/news/world-africa-14095300
[4] Heather Croshaw. "Darfur, Conflict, and Climate Change: Identifying Opportunities for Sustainable Peace" Nicholas School of the Environment and Earth Sciences at Duke University, April 25, 2008, accessed December 13, 2016. http://dukespace.lib.duke.edu/dspace/bitstream/handle/10161/554/MP_hrc4_a_200805.pdf;sequence=3
[5] Julian Borger, "Darfur conflict heralds era of wars triggered by climate change, UN report warns", The Guardian, June 23, 2007, accessed December 2013, 2016. https://www.theguardian.com/environment/2007/jun/23/sudan.climatechange
[6] "Sudan: Post-Conflict Environmental Assessment", United Nations Environmental Program, June, 2007, accessed December 13, 2016. http://www.unep.org/sudan/post-conflict/PDF/UNEP_Sudan.pdf
[7] Ahmad Sikainga, "The World's Worst Humanitarian Crisis: Understanding the Darfur Conflict", Origins: Current Events In Historical Perspective, February 2, 2009, accessed December 13, 2016. http://origins.osu.edu/article/worlds-worst-humanitarian-crisis-understanding-darfur-conflict
[8] Francesca de Chatel. "The Role of Drought and Climate Change in the Syrian Uprising: Untangling the Triggers of the Revolution", Middle Eastern Studies, January 27, 2014, accessed December 13, 2016. http://www.tandfonline.com/doi/full/10.1080/00263206.2013.850076?scroll=top&needAccess=true&
[9] Ibid.
[10] Ibid.
[11] Solomon Hsiang and Marshall Burke. "Climate is Indeed the Cause of Social Conflict" Goldman School of Public Policy at the University of California Berkeley, January 4, 2016, accessed December 13, 2016. https://gspp.berkeley.edu/news/news-center/climate-change-is-indeed-a-cause-of-social-conflict
[12] Ibid.
Works Cited
Ahmad Sikainga, "The World's Worst Humanitarian Crisis: Understanding the Darfur Conflict", Origins: Current Events In Historical Perspective, February 2, 2009, accessed December 13, 2016. http://origins.osu.edu/article/worlds-worst-humanitarian-crisis-understanding-darfur-conflict
Joe Romm. "Why Bernie Sanders Was Right To Link Climate Change to National Security" Think Progress, November 16, 2015, accessed December 13, 2016. https://thinkprogress.org/why-bernie-sanders-was-right-to-link-climate-change-to-national-security-e3d116d365c#.o7eyapvm8
Julian Borger, "Darfur conflict heralds era of wars triggered by climate change, UN report warns", The Guardian, June 23, 2007, accessed December 2013, 2016. https://www.theguardian.com/environment/2007/jun/23/sudan.climatechange
Francesca de Chatel. "The Role of Drought and Climate Change in the Syrian Uprising: Untangling the Triggers of the Revolution", Middle Eastern Studies, January 27, 2014, accessed December 13, 2016. http://www.tandfonline.com/doi/full/10.1080/00263206.2013.850076?scroll=top&needAccess=true&
Harold Welzer. "Darfur: The First Climate War", Audubon Society, July 12, 2012, accessed December 13, 2016. http://www.audubon.org/news/darfur-first-climate-war
Heather Croshaw. "Darfur, Conflict, and Climate Change: Identifying Opportunities for Sustainable Peace" Nicholas School of the Environment and Earth Sciences at Duke University, April 25, 2008, accessed December 13, 2016. http://dukespace.lib.duke.edu/dspace/bitstream/handle/10161/554/MP_hrc4_a_200805.pdf;sequence=3
Solomon Hsiang and Marshall Burke. "Climate is Indeed the Cause of Social Conflict" Goldman School of Public Policy at the University of California Berkeley, January 4, 2016, accessed December 13, 2016. https://gspp.berkeley.edu/news/news-center/climate-change-is-indeed-a-cause-of-social-conflict
"Sudan: Post-Conflict Environmental Assessment", United Nations Environmental Program, June, 2007, accessed December 13, 2016. http://www.unep.org/sudan/post-conflict/PDF/UNEP_Sudan.pdf
"Sudan Profile: Timeline". BBC World News, December 10, 2015, accessed December 13, 2016. http://www.bbc.com/news/world-africa-14095300