featured
Rethinking the French Presidential Election Outcomes: Uncertainty in France's Foreign Policy Direction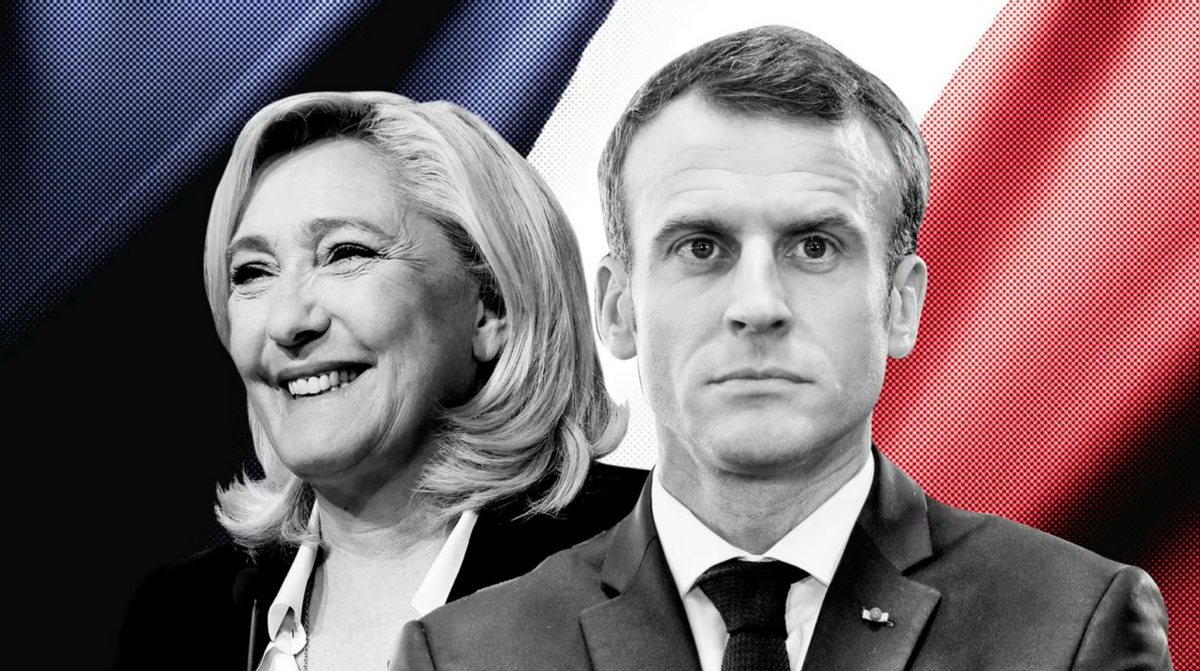 By Bosco Hung
---
The far-right is on the rise in France. French president Emmanuel Macron won a second presidential term in April, but far-right nationalist candidate Marine Le Pen captured a surprisingly high share of votes, coming in at 41%. The amount of support for far-right candidates has grown significantly in recent years, as members of the French public feel increasingly disillusioned with establishment politicians and understood by anti-globalists like Le Pen. Candidates who were once viewed as extremists on the fringes of French politics are now treated as serious choices by voters. The rise of the far-right could lead to a change in French foreign policy. French foreign policy has historically been pro-European Union (EU), and Macron's foreign policy reflects that pattern: he believes the best way to assert French dominance in the Western world is to strengthen the EU and establish France as the dominant power in the union. The far-right, however, is anti-EU and anti-globalization. The right turn in French politics threatens to upend France's foreign policy establishment and disrupt the pro-Europe programs supported by Macron and other politicians.
France's Foreign Policy under Macron
Since the end of World War II, France has advocated for a stronger and more united Europe. For example, France introduced the Schuman Declaration, a 1950 proposal to establish a single authority over French and West German coal production; since then, France has remained a supporter of supranational European institutions to encourage European economic cooperation.
Macron's take on pro-Europe foreign policy is slightly different from that of leaders before him: he is eager to establish France's dominance in the Western world and sees an opportunity in the decline of the U.S. and other European powers. Therefore, Macron suggests that France has to be the "engine" driving Europe to common prosperity. Defense is a great example to demonstrate France's active call for European integration. In view of the volatile geopolitical order, Macron desires to increase the whole continent's influence and ensure France and European countries can defend themselves from foreign threats independently without relying on the United States' assistance. He also hopes to replace the United States as the leader in European defense matters. Therefore, he has initiated closer multilateral cooperation with the European Union and led discussions in the Council of the European Union on strategic cooperation. Such pursuit of global exposure is clearly pushing France to be a driver of European integration or even globalization, which increases its appearance on the international scene.
The Rise of Extreme Right-Wing Politicians
Although Macron won the most recent presidential election, the anti-EU right wing in France is growing rapidly and gaining influence. Since the 1980s, the radical right-wing in France has gained an increasing share of votes in presidential elections. In 2002, Jean-Marie Le Pen, father of the 2022 presidential candidate Marine, obtained the second-highest number of votes in the first-round election and even advanced to the second round. In the 2022 French presidential elections, Marine Le Pen obtained 41.45% of votes in the second-round election, more than 7 percentage points higher than what she obtained in 2017 and more than 23 percentage points higher than what her father obtained in 2002. Other right-wing candidates, Eric Zemmour and Valérie Pécresse, won 7.07% and 4.78% of votes respectively in the first round. If public support for these fringe candidates continues to grow at this rate, it is no longer unimaginable that an extremist candidate like Le Pen could win the presidency in the future.
This rapid growth in the right-wing parties does not come from nowhere. The mainstream parties and politicians in France have occasionally demonstrated incompetence and weaknesses. For example, former French president Nicolas Sarkozy insisted on raising the minimum retirement age from 60 to 62 despite strong protests. Other mainstream candidates have largely failed to address people's "actual" problems like retirement, poverty and unemployment in their platforms; these problems are often exacerbated by globalization. French people are strongly dissatisfied with mainstream politicians' ignorance of problems caused by globalization and their failure to understand the issues normal citizens are facing.
Meanwhile, the radical right-wing has been known for its populist approaches that can appeal to the masses. Members of the far-right believe that globalization is hurting local workers' interests and making France vulnerable to foreign intervention. Therefore, the far-right actively addresses people's concern about the harms brought by globalization and packages itself as a party of "patriots" fighting for national interests. For instance, in response to the intensifying job competition caused by immigration and globalization supported by the left, right-wing parties have promoted protectionism, immigration control, and Euro-scepticism to prioritize the public demand for jobs and defend locals' interests. Therefore, the far right-wing is perceived as the one who actually understands the public, especially by the working class which views itself as directly threatened by foreign competition.
Take Marine Le Pen as an example. Le Pen believes that globalization and European integration have led to a decline in local industries and unemployment. Therefore, she has portrayed herself as a representative of the "losers" in globalization, such as the working class. She wants to priortize French national interests, so she is discontented with France's strong ties with the European Union, which she believes could backfire and restrict France's autonomy. In 2012, Le Pen even supported a French exit from the European Union. Although she softened her attitude to gain mainstream support in the 2017 and 2022 elections, it is clear that she – and many members of the French right – continue to hold an anti-Europe attitude, which is also increasingly recognised by the voters.
This shift to the right is therefore likely more than temporary frustration with Covid, soaring living costs, and Macron's incompetence. Le Pen, Zemmour, and Pécresse are widely perceived as extremists; such a sharp rise in their support is abnormal and likely captures deep-seated resentments. French citizens are leaning towards the right, regarding the far-right candidates as reasonable choices.
Leaving the international scene
Given that Macron was re-elected as president, he will have the opportunity to continue to carry out his pro-Europe foreign policy. France is thus unlikely to have a radical twist in its foreign policy direction in the short term. In the longer term, however, France's behavior towards the European Union may change as right-wing politicians come to power or use their growing base to pressure Macron.
The past election outcomes, especially the 2022 one, have shown a growing divide in French politics, with the anti-globalization far-right expanding rapidly. Being strongly critical of globalization, the far-right has fiercely criticized Macron's pursuit of closer ties and more comprehensive cooperation with other European countries. Without reconciliation of different camps' differences, it will be difficult for the europhile president to carry out his pro-Europe programs. Emerging public pressure will force Macron to consider the far-right's anti-Europe sentiment and lower his ambition when handling France's relationship with Europe and issues related to globalization.
Under the same logic, even if these far-right extremists cannot win the future elections, the high public support for the right-wing could pressure the mainstream candidates to cater to people's demand for more localisation and less globalization. It is becoming more possible that France could dilute its relationship with Europe and turn away from the international scene. The future of France's relations with the European countries is gloomy.
---
Reference
Duclos, Michel. "Tracing French Diplomacy: A Brief History of Macron's Foreign Policy." Institut Montaigne, October 12, 2021. https://www.institutmontaigne.org/en/blog/tracing-french-diplomacy-brief-history-macrons-foreign-policy (accessed May 18, 2022)
Fadel, Leila. "The rise of the far-right in France." NPR, April 11, 2022. https://www.npr.org/2022/04/11/1091980628/the-rise-of-the-far-right-in-france (accessed May 18, 2022).
Gauthier-Villars, David. "French Discontent Imperils Sarkozy." The Wall Street Journal, May 4, 2012. https://www.wsj.com/articles/SB10001424052702304746604577380111499577188 (accessed May 25, 2022).
Grosse, Tomasz G. "The French Vision of Europe's Future." The Warsaw Institute Review, May 18, 2020. https://warsawinstitute.review/issue-2020/the-french-vision-of-europes-future/ (accessed May 25, 2022).
Hainsworth, Paul. "The extreme right in France: the rise and rise of Jean‐Marie Le Pen's front national." Journal of Representative Democracy 40, no. 2 (2004): 101–14. https://www.tandfonline.com/doi/pdf/10.1080/00344890408523253?needAccess=true
Ignazi, Piero. "The Failure of Mainstream Parties and the Impact of New Challenger Parties in France, Italy and Spain." Italian Political Science Review/Rivista Italiana Di Scienza Politica 51, no. 1 (2021): 100–116. https://doi.org/10.1017/ipo.2020.26.
Kempin, Ronja. France's Foreign and Security Policy under President Macron. Berlin: German Institute for International and Security Affairs, 2021.
Kirby, Paul. "French elections: Macron v Le Pen and two visions for France." BBC News, April 21, 2022. https://www.bbc.co.uk/news/world-europe-61140262 (accessed May 18, 2022).
Kirby, Paul. "French vote as Macron aims to beat far-right Le Pen." BBC News, April 24, 2022. https://www.bbc.co.uk/news/world-europe-61204543 (accessed May 18, 2022).
Lamy, Pascal. "Le Pen, patriots and the anti-globalist movement." Interview by Gideon Rachman. Financial Times, April 21, 2022. https://www.ft.com/content/1fd8a3d6-f156-449d-b521-981ae9428ae0 (accessed May 18, 2022).
Lee, Jae-Seung. "The French Road to European Community: From the ECSC to the EEC (1945-1957)." Journal of International and Area Studies 11, no. 2 (2004): 107–23. http://www.jstor.org/stable/43111451.
Onfray, Michel. "Plus personne à gauche n'a le souci des ouvriers ou ne les représente." Le Point, May 12, 2011. https://www.lepoint.fr/politique/plus-personne-a-gauche-n-a-le-souci-des-ouvriers-ou-ne-les-represente-12-05-2011-1332434_20.php (accessed May 25, 2022).
Peralta, Eyder. "As New French Retirement Age Becomes Law, Sarkozy Faces Reckoning." NPR, November 10, 2010. https://www.npr.org/sections/thetwo-way/2010/11/10/131220302/french-retirement-age-officially-62 (accessed May 25, 2022).
Quencez, Martin, and Gesine Weber. "Macron's European and Global Goals for His Second Term." GMF, April 26, 2022. https://www.gmfus.org/news/macrons-european-and-global-goals-his-second-term (accessed May 18, 2022).
Stothard, Michael. "Marine Le Pen promises crackdown on immigration and globalisation." Financial Times, February 5, 2017. https://www.ft.com/content/9854f5e4-ebc3-11e6-930f-061b01e23655 (accessed May 18, 2022).
Tertrais, Bruno. "Bruno Tertrais says French foreign policy is gaining more attention than usual in the campaign." The Economist, April 8, 2022. https://www.economist.com/by-invitation/2022/04/08/bruno-tertrais-says-french-foreign-policy-is-gaining-more-attention-than-usual-in-the-campaign (accessed May 18, 2022).
Weber, Gesine, Raphael Gourrada. "Time for a New French Method to Promote European Sovereignty." GMF, February 15, 2022. https://www.gmfus.org/news/time-new-french-method-promote-european-sovereignty (accessed May 25, 2022).
Weber, Gesine. "French foreign and security policy under Macron: all in for European sovereignty." UK in a Changing Europe, April 4, 2022. https://ukandeu.ac.uk/french-foreign-and-security-policy-under-macron-all-in-for-european-sovereignty/ (accessed May 25, 2022).
Williams, Michelle Hale. "A New Era for French Far Right Politics? Comparing the FN under Two Le Pens." Análise Social 46, no. 201 (2011): 679–95. http://www.jstor.org/stable/41494868.