The 2020 Election: Déjà vu for Iranian-Americans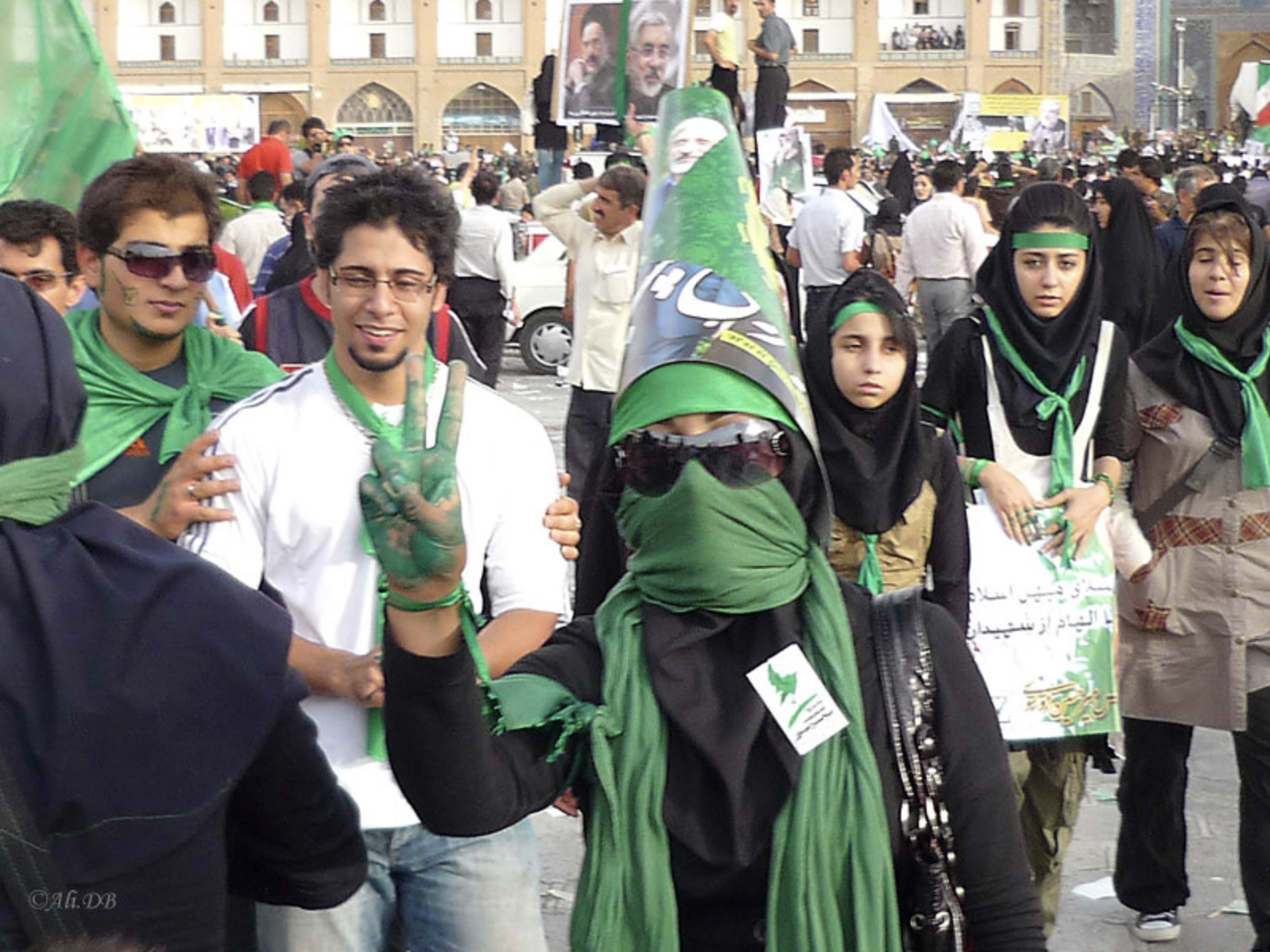 by YOUNES MAHMOUDIEH, University of Barcelona
Picture a country plagued by uncertainty, instability, and violence; government institutions have begun to collapse as the world watches with growing concern. The United States has recently witnessed the rise of voter suppression, intimidation of the media, and the co-optation of military forces for political means. In many ways, the United States has begun to resemble the very same dictatorships it often critiques for human rights violations. For Middle Easterners living in the United States, our worst nightmare has been realized. In light of the 2020 presidential election, it is important to not only look to the future, but also analyze this year's turbulent upheaval.
Though widespread urban protest against the Trump administration began almost immediately after the 2016 election, 2020's protests have proven to be starkly different in both magnitude and scope. Protests against police brutality and systemic racism have dominated media coverage and disrupted "life as we know it."
As an Iranian who was present during the 2009 Green Movement, a series of political protests sparked by allegations of a rigged presidential election, I feel right at home in America today. Many Americans may not see parallels between their country and the Islamic Republic; nevertheless, those of us who have experienced widespread popular discontent, especially in the Middle East, do not see much of a difference. Armed soldiers sent to confront protesters is a familiar sight to Iranians. We are accustomed to seeing military helicopters circle above crowds. Plainclothes police units forcing protesters into unmarked vans, armed counter protesters violently attacking crowds of civilians, and a president threatening aggressive use of force while calling for "law and order" are all symptoms of a sudden shift that the United States is ill prepared for: a shift towards the style of governance of Middle Eastern dictatorships. It would almost seem as though, for once, Iran's leaders are leading by example, and President Trump is keenly studying their playbook.
Protests triggered by the murder of George Floyd at the hands of four police officers on May 25, 2020 inspired a nationwide movement that shows little sign of slowing down. Black Lives Matter has transformed America into a battleground, wherein the national guard is routinely deployed in response to peaceful protest and frequently employs violent tactics to quash dissidence. The protests have gathered support among minorities, as well as across Hollywood, prominent sports teams, LGBTQ activists, and women's rights groups. Opposition towards police brutality has become the rallying cry of the anti-Trump population. For now, the establishment has been unsympathetic.
The 2009 Green Movement in Iran began with nationwide marches that challenged the veracity of recent election results, in which incumbent President Mahmoud Ahmadinejad defeated rivals Mir Hossein Mousavi and Mehdi Karoubi with wide margins; in brief, these results were dismissed by many in the Iran and around the world as, at best, improbable and, at worst, entirely fraudulent. Millions of Iranians filled the streets, with numbers that had not been seen since the 1979 Islamic Revolution. The movement was brutally suppressed by the Islamic Revolutionary Guards Corps and the Basij, plainclothes civilian militias.
Iran's response to the 2009 Green Movement is eerily reminiscent of civilian militias in the United States, who often incite violence. A recent example is Kyle Rittenhouse, a teenager who killed two protesters during demonstrations against racial injustice in Kenosha, Wisconsin. Kyle Rittenhouse was lauded by many conservatives as a teen heroically trying to maintain security. Notably, President Trump has also avoided condemning white supremacists. During the 2017 "Unite the Right" rally in Charlottesville, Virginia, he stated that "there are very fine people on both sides." More recently, Trump asked the Proud Boys to "stand by" when explicitly asked to condemn the Proud Boys and other white supremacist groups during the first 2020 presidential debate, demonstrating a degree of tacit support for these militia groups.
Indeed, the Black Lives Matter movement has triggered fundamental questions about the durability of American democracy, something previously taken for granted or, at least, viewed as a constant. Civil liberties are considered the hallmark of American democracy, and a system of checks and balances is referenced as an essential element of democracy's preservation. In 2020, however, many civil liberties have been stripped away from citizens. Cities across the United States experienced military curfews during the height of the racial justice protests, limiting protesters' ability to march(these cities were subsequently sued by BLM and the ACLU). Riot police were sent to confront peaceful protesters. The president has threatened and criticized the media, even calling it "the enemy of the people." Voter suppression worsened, with increased executive threats against the United States Postal Service, the organization that ultimately managed much of the 2020 presidential election due to the coronavirus outbreak and subsequent popularity of mail-in ballots. Analysts have labelled Trump's attacks on the USPS "an attack on fair and equitable voting and the democratic process."
Most shocking of all, when questioned by journalists, President Trump refused to commit to a peaceful transition of power after Election Day, bringing to mind that "almost 40% of dictators suffer an election loss, [but] only 12 percent of dictators leave office after losing an election."Donald Trump has repeatedly flaunted his close relationship with dictators and has publicly stated that he admires their leadership. It is not hard to imagine that he might follow their lead after a bitter election loss. Trump has already refused to commit to accepting the results of the election, saying that he would have to see how things went, adding, "No, I'm not going to just say yes. I'm not going to say no."The Republican attempts to rush the confirmation of Judge Amy Coney Barrett to the Supreme Court raise fears that the election may be decided in the courts, and the newly appointed judge may shift the vote in Trump's favor.
As the BLM movement continues, George Floyd and Breonna Taylor, among others, have become martyrs; their names have become the rallying cry of the masses. This is similar to the shooting of Neda Agha-Soltan, the most widely known firearm victim of the 2009 protests in Iran. She, too, became a symbol of resistance, and her murder further outraged Iranian protestors. Several members of the Iranian national soccer team wore green ribbons during their World Cup qualification match in support of the movement. Similarly, American athletes such as Lebron James, Bubba Wallace, Naomi Osaka, and many more have publicly spoken out, often displaying the names of victims of police brutality on their clothes and jerseys and mentioning them in interviews.
Similar to Iranian officials' characterization of protestors after the 2009 election, the Trump administration has characterized American protesters as "looters, thugs, criminals, and scum."Indeed, the president has justified military presence in certain cities, in a manner eerily similar to that of the Iranian government. President Trump notably tweeted that, "when the looting starts, the shooting starts."76 people died or were killed as a result of their participation in the Green Movement. Iranian authorities dismissed these casualties as collateral damage in a war on "seditionists and foreign interventionists." By June 3, 2020, Al Jazeera reported nearly a dozen deaths in the U.S protests, and protesters in Portland experienced tension with the National Guard. Video footage has documented multiple incidents of violent attacks on protesters and journalists.For example, an elderly man in New York suffered a brain injury after officers shoved him to the ground; ajournalist was beaten in the face by soldiers in Washington, D.C; and apolice car in Los Angeles was filmed ramming into a crowd of protesters andspeeding off.
Many Iranians see Trump as the "American Ahmadinejad," a source of embarrassment for the nation. The metaphor is not far off. Trump, like Ahmadinejad, often makes grammatical mistakes, has an inflated ego, constantly confronts foreign leaders, has no respect for international law or institutions, and suffers from an incessant Twitter addiction. Both leaders have claimed, with little to no supporting evidence, that their presidencies have been undermined by foreign intervention and meddling. Both have used national security as an excuse to unleash violent militias on demonstrators.
Dictators often advertise close relationships with the military and their security services, projecting their power and authority. In Iran, the Iranian Revolutionary Guard Corps. is perceived as the regime's protectors, answering only to the Supreme Leader, Ali Khamenei. Donald Trump also often flaunts his relationship with the military, asking generals to accompany him on photo shoots and public outings. The United States' top military official, Gen. Mark A. Milley, recently apologized for accompanying the President during his walk across Lafayette Squaresaying, "As a commissioned uniformed officer, it was a mistake that I have learned from… My presence in that moment and in that environment created a perception of the military involved in domestic politics." An inappropriate, possibly illegal relationship with military heads arouses concern of democratic suppression. Authoritarianism is often characterized by military enforcement and intimidation. Widespread reports that Trump fired Secretary of Defense Mark Esper "over a disagreement about using active duty troops to quell street protests"are extremely frightening. The right to peaceful protest is enshrined in the first amendment of the US Constitution but is now under attack.
In his first speech after the 2009 Iranian presidential elections,Ayatollah Khamenei warned that any individual who participated in protests brought corresponding violence on themselves: "Flexing muscles on the streets after the election is not right. It means challenging the elections and democracy. If they don't stop, the consequences of the chaos would be their responsibility." At the start of the Black Lives Matter protests, Donald Trump similarly tweeted, "Any protesters, anarchists, agitators, looters or lowlifes who are going to Oklahoma please understand, you will not be treated like you have been in New York, Seattle, or Minneapolis. It will be a much different scene!" The parallels between Trump's threats and those of authoritarian leaders around the world is an alarming sign and does not bode well for the future of American democracy.
It is important to note that presidential candidates Mir Hossein Mousavi and Mehdi Karroubi, the informal leaders of the Green Movement never advocated for regime change in Iran. Both were retired civil servants who advocated reform and change within the Iranian political system. Prominent Democrats, including Bernie Sanders, Alexandria Ocasio Cortez, Elizabeth Warren, and Joe Biden are no different. Democrats and liberals in the United States want a return to constitutional democracy in the country and a check on executive powers.
The failure of the Iranian Green Movement essentially doomed Iran's reformists. Ahmadinejad and the conservative establishment's victory in the 2009 election, as well as their victory against Mousavi, Karroubi, and the Green Movement protesters, empowered the regime hardliners. Meaningful political reform is highly unlikely in present-day Iran. Hassan Rouhani, Iran's current President, ultimately replaced Mahmoud Ahmadinejad, having run on a reformist platform. His presidency has not, however, led to significant reform.
If the 2020 U.S. presidential election fails to unseat Donald Trump, a bleak future awaits. Dictators with unchecked power can easily do irreversible damage. The American political system has never faced such a threat before. Once checks and balances are removed, a return to accountability and transparency is painstaking and unlikely, even with a reformist like Hassan Rouhani in office.
The peaceful transition of power was the ultimate differentiating characteristic of American democracy. Presidential candidates in the US have historically shown their rivals respect and conceded with dignity after election losses. President Trump's refusal to do so is unprecedented and dangerous. 2020 has once again shocked the world with historic firsts.
The events of November will determine the outcome of this growing movement and America's vulnerable democracy. The failure of reform and democracy in Iran can serve as a dire warning for Americans of what comes next if Donald Trump is re-elected. 
---
[1] https://www.nbcnews.com/news/us-news/blog/2020-06-03-george-floyd-protests-n1223081/ncrd1224466#blogHeader
[2] https://www.voanews.com/usa/day-100-protests-portland-police-declare-riot
[3] https://www.brookings.edu/blog/fixgov/2020/08/24/why-trumps-attack-on-usps-is-an-attack-on-the-constitution-democracy-and-racial-equality/
[4] https://www.brookings.edu/blog/fixgov/2020/08/24/why-trumps-attack-on-usps-is-an-attack-on-the-constitution-democracy-and-racial-equality/
[5] https://www.cnn.com/2020/09/23/politics/trump-election-day-peaceful-transition/index.html
[6] https://time.com/5888583/naomi-osaka-masks-black-lives-matter-us-open/
[7] https://www.washingtontimes.com/news/2009/jun/16/iran-protest-biggest-since-revolution/
[8] https://www.cbsnews.com/news/trump-minneapolis-protesters-thugs-flagged-twitter/
[9] https://www.cbsnews.com/news/trump-minneapolis-protesters-thugs-flagged-twitter/
[10] https://www.aljazeera.com/features/2020/06/16/blinded-arrested-police-attack-journalists-covering-us-protests/
[11] https://www.insider.com/buffalo-police-officers-shove-martin-gugino-brain-injury-2020-6
[12] https://people.com/crime/police-officer-punches-hits-press-cameraman-with-shield-live-broadcast-dc-protest/
[13] https://losangeles.cbslocal.com/2020/05/31/lapd-vehicle-crowd-protesters/
[14] https://www.nytimes.com/2020/06/11/us/politics/trump-milley-military-protests-lafayette-square.html?auth=login-email&login=email
[15] https://www.nytimes.com/2009/06/20/world/middleeast/20iran.html
[16] https://twitter.com/realDonaldTrump/status/1273972301156016130
[17] https://www.washingtonpost.com/politics/trumps-dual-instincts-on-iran-big-threats-and-an-eagerness-to-deal/2019/09/16/1d18f860-d894-11e9-a688-303693fb4b0b_story.html